Awning blind for roof windows: protection from overheating
✓ Heat protection
✓ Transparent fabric
✓ Installs from the inside
‼ The product is adapted for installation on SKYLIGHT PREMIUM roof windows and SKYLIGHT roof windows
The awning blind provides optimum protection from overheating while, at the same time providing a view to the outside. Fakro awning blind reflects sun rays before they reach the glass and thus protects against heat build-up on sunny days, providing relief for the eyes and protection from the harmful effects of strong reflected light, which is especially important when working with computers.

The awning blind AMZ is made of durable, weather- resistant fibre glass fabric. The fabric is roller mounted, spring loaded and fitted inside an aluminium casing which is installed at the top of the window. This enables easy control of the blind and makes it possible to use a wider fabric, thus providing additional protection against ingress of light. To control the blind an 80cm long rod is supplied in package. There is also available a rod ZSZ which is 150 cm long.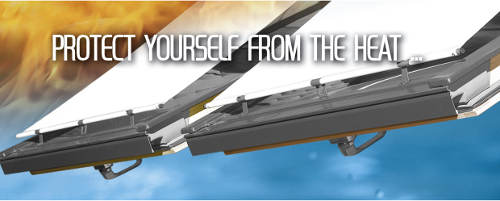 Characteristic of the awning blind for roof windows
the best protection from the heat,

effective shading of the room whilst still allowing some light in,

comfortable use – we can cover the window for a whole summer without the need to roll it up and down every day,

easy installation – we install the blind from the inside (unscrew four screws and then rescrew them again in the same holes),
protection from harmful UV radiation,when used in rainy weather, reduces noise of rain and hailstones.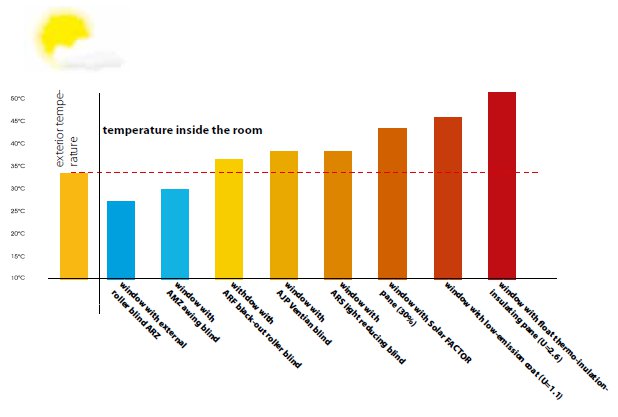 Control of the awning blind for roof windows
This awning blind for SKYLIGHT PERMIUM / SHYLIGHT roof windows ir manually operated or with the use of rod (supplied in package).
How to properly choose the awning blind for the roof window?
Kindly read carefully before making a purchase!
The size of the ordered blinds, e.g. 78x140 cm, refers to the external dimensions of the skylight! The roller blind itself is smaller.
The size of the roof window can be found on a sticker attached to the support rail on the right side of the window. Open the roof window and look to the right, there is a small, white sticker.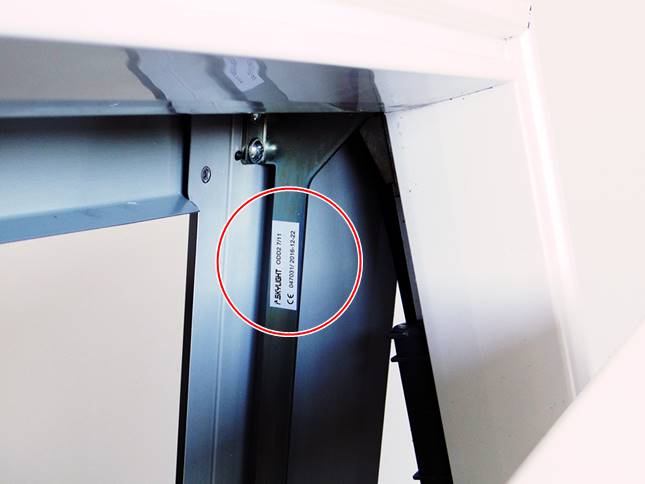 The measurement of the window is not required. Please order the accessories in the size that is given on the sticker:
5/7 = 55x78cm
5/9 = 55x98cm
5/11 = 55x118cm
6/11 = 66x118cm
6/14 = 66x140cm
7/9 = 78x98cm
7/11 = 78x118cm
7/14=78x140cm
7/16 = 78x160cm
9/11 = 94x118cm
9/14 = 94x140cm
11/11 = 114x118cm
11/14 = 114x140cm
Colors of the awning blind for roof windows
Awning blind cassette compared to the exterior colors of SKYLIGHT PREMIUM / SKYLIGHT roof windows
SKYLIGHT
roof window
in Grey version
Awning blind
cassette
SKYLIGHT
roof window
in brown version
RAL 7043
RAL 7022
RAL 8019
Fabric of the awning blind



relative Öffnungsweite 10%