Blackout blinds for roof windows: perfect for the bedroom and children's room
✓ Total blackout
✓ Stepless positioning
‼ The product is adapted for installation only on SKYLIGHT PREMIUM roof windows and SKYLIGHT roof windows
How to properly choose the blackout blind for the roof window?
Kindly read carefully before making a purchase!
!!! Blackout blinds are available in two variants: a roller blind adapted to the SKYLIGHT PREMIUM roof window (ODD1) and a roller blind adapted to the SKYLIGHT roof window (ODD2). These roof windows differ in construction. Blind made for the SKYLIGHT roof window will not match the SKYLIGHT PREMIUM window. Similarly, blackout blinds made for SKYLIGHT PREMIUM will not match SKYLIGHT roof windows. In addition, the blinds do not match the roof windows of other manufacturers.
!!! The size of the ordered blinds, e.g. 78x140 cm, refers to the external dimensions of the roof window! The roller blind itself is smaller.
The type (ODD1 / ODD2) and the size of the roof window can be found on a sticker attached to the support rail on the right side of the window. Open the roof window and look to the right, there is a small, white sticker.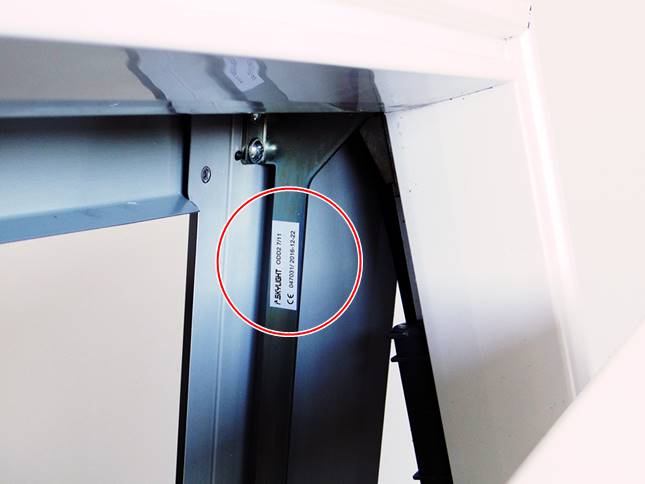 The measurement of the window is not required. Please order the accessories in the size that is given on the sticker:
5/7 = 55x78cm
5/9 = 55x98cm
5/11 = 55x118cm
6/11 = 66x118cm
6/14 = 66x140cm
7/9 = 78x98cm
7/11 = 78x118cm
7/14 = 78x140cm
7/16 = 78x160cm
9/11 = 94x118cm
9/14 = 94x140cm
11/11 = 114x118cm
11/14 = 114x140cm

Colors
Color of the roller cassette and side rails: white
Fabric variants:
Depending on the screen setting, there may be color variations between this representation on your computer and the actual material.
Colors
White
Light Beige
Dark Blue
Black
Light grey