YTONG PP2,2-0,30. Available thicknesses: 365mm, 480mm
Cellular concrete PP2,2-03 is characterized with one of the lowest thermal conductivity available in the market: λ=0.072 W/m²K, and is therefore suitable for the construction of passive houses. "300" blocks are ideal for construction of single-layer, load-bearing external walls, which do not require additional insulation. Using PP2,2-03 blocks of 48cm thickness enables reaching the U-value for the wall as low as 0.15 W/m²K.
Due to good thermal conductivity and adequate compressive strength, PP2,2-03 blocks are suitable for both residential and commercial buildings, from the ground floor to the roof. Additionally, according to their relatively small weight, they are the best choice in case renovations of the constructions, like for instance attics, where structural load limitations apply. Easy mechanical processing ensures high speed and quality of construction works even for non-professionals.
Most important parameters
PP2,2-0,30
Thickness [mm]
365
480
U-Value (W/m²K)
0,20
0,15
Thermal conductivity (W/mK)
0,072
Compressive strength (N/mm²)
2,2
Density [kg/m³]
300
Reaction to fire
A1
YTONG PP2-0,30 vs other Ytong blocks
| | | | |
| --- | --- | --- | --- |
| Blocks | Thermal conductivity λ (W/mK) | Compressive strength (N/mm2) | Density [kg/m³] |
| PP2,2-0,3 | 0,072 | 2,2 | 300 |
| PP2,5-40 | 0,11 | 2,5 | 400 |
| PP3-0,5 | 0,14 | 3 | 500 |
| PP4-0,6 | 0,16 | 4 | 600 |
| PP5-0,7 | 0,2 | 5 | 700 |
U-Value (W/m2K)

Typ

115

150

175

200

240

300

365

480

PP2,2-0,3

-

-

-

-

-

-

0,20

0,15

PP2,5-0,4

-

-

-

-

0,43

0,35

-

-

PP3-0,5
1,01
-
-
-
-
-
-
-
PP4-0,6
1,13
0,90
0,79
0,70
0,60
0,49
0,41
-
PP5-0,7

-

-

-

-

0,73

-

-

-
Why single layer wall is better than wall with insulation?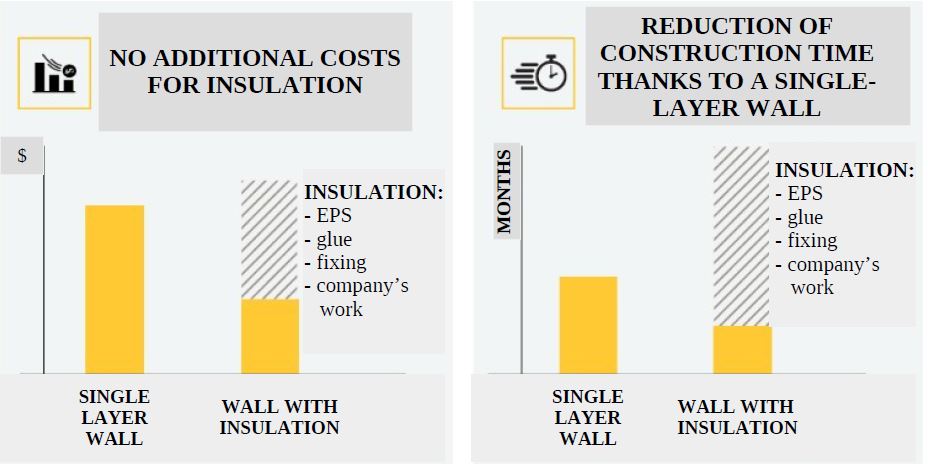 Logistics
PP2,2 - 0,3
Dimensions [mm]
Data
Width
Height
Lenght
pcs/pal
m³/pal
pcs/m³
pal/truck
m³/truck
m²/truck
365
199
599
32
1,40
22,98
33
46,25
126,72
480
199
599
24
1,38
17,48
33
45,62
95,04
Ytong cellular concrete is:
Warm: air is the best insulator, it constitutes 60-85% of entire volume in a cellular concrete structure and therefore decreases demand for heating or air-conditioning in a significant degree in a case of walls made of the cellular concrete. Because of its structure, the cellular concrete is one of the warmest construction material. It can be used for building single-layer walls that do not require additional insulation.
Light: Small weight compared to volume is one of the most valuable properties of the cellular concrete. Thanks to its lightness it allows to adapt already existing places, e.g. extension of attics and lofts where the overloading of constructions built many years ago is not allowed. Due to the fact that most construction works are performed manually, so the weight of the blocks is very important factor.
Economic: allows construction of single-layer walls, where use of insulation materials is not necessary, it's extremely cost-effective. Choosing cellular concrete you choose an economic system of the house construction together with the products of the highest quality level. Accuracy of dimensions, easiness of treatment and the high thermal properties cause that the cost of ready walls build with cellular concrete is adequately low.
The highest fire resistance: because of its purely mineral composition, cellular concrete is classified as non-combustible building material in the highest fire resistance class A1. During the fire it does not emit any harmful or toxic substances and is resistant to fire to the temperature of 1200°C and as opposed to other building materials it also is glow-resistant. Fire resistance of cellular concrete walls comes to 4 hours and fulfills the highest requirements of regulations concerning the fire protection. Walls made of this concrete prevent from spreading the fire and thanks to it protects life and property as well as ensure easy evacuation in a case of fire hazard.
Good acoustic insulator: walls made of cellular concrete have bigger sound damping capacity in comparison to other building materials of the same density. It ensures a high level of noise protection. Due to that fact, walls show an excellent acoustic insulation and ensure calm, comfortable living and secure protection against onerous sounds coming both from outside and inside of the building.
Durable for many generations: it does not age, it is also resistant to chemical and biological corrosion, to mold, bacteria and acid rains in industrial regions. The composition of cellular concrete eliminates rashes and salt precipitation, mildew and microorganisms harmful to the health. It retain its properties during the entire period of building exploitation.\
Accuracy of dimensions: A production technology of cellular concrete ensures the highest accuracy of dimensions, which greatly facilitates the brickwork and reduces the cost of finishing the walls due to the lower consumption of renders, gypsum surface finishings etc.
Easy in mechanical treatment: The blocks can be processed using the simplest tools in order to cut the blocks, make electrical holes or grooves for water and sewage systems.
Comfortable in use: ensures a comfortable micro-climate of the interior and have a positive influence on the mood of household members creating appropriate conditions both for work and leisure.
Healthy and ecologic: It is produced from raw materials harmless to health:aggregates sand, lime, cement and water. Through the use of natural resources and modern production technology, the walls made of cellular concrete ensure well-being of household members. The pores in cellular concrete allow to absorb surplus of humidity from air inside of the building and give it back when the air is too dry. It prevents walls from getting damp, developing mold and mildew and keeps air humidity at constant level. Thanks to the appropriate thickness, single-layer walls collect heat and give it back depending on indoor and outdoor temperature, keeping it at a constant level. This takes place both in a daily and yearly cycle. It prevents from a sudden cooling in the winter and on the other hand from excessive overheating in the summer.
Thermal conductivity:
0.072
Compressive strength (N/mm²):
2.2