AMZ: awning blind for Fakro centre-pivot and top-hung-and-pivot roof windows
The awning blind provides optimum protection from overheating while, at the same time providing a view to the outside. Fakro awning blind reflects sun rays before they reach the glass and thus protects against heat build-up on sunny days, providing relief for the eyes and protection from the harmful effects of strong reflected light, which is especially important when working with computers.

The awning blind AMZ is made of durable, weather- resistant fibre glass fabric. The fabric is roller mounted, spring loaded and fitted inside an aluminium casing which is installed at the top of the window. This enables easy control of the blind and makes it possible to use a wider fabric, thus providing additional protection against ingress of light. To control the blind an 80cm long rod is supplied in package. There is also available a rod ZSZ which is 150 cm long.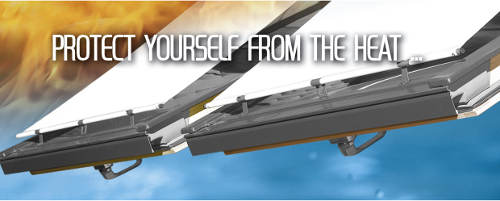 Z-Wave: wireless control system
Fakro has equipped its products with a radio communication system named Z-Wave. This is a wireless protocol used for communication between household appliances which allows you to create a single network by combining a range of electrical devices such as: lighting, thermostats, alarms, computers, telephones, air conditioning and electric windows and blinds. Currently, there are over 200 manufacturers of electric household devices associated in the Z-Wave system (amongst others: Intel, Panasonic, Apple, General Electric).
Important information
Awning blind AMZ Z-Wave is designed for centre-pivot and top-hung-and-pivot windows.
AMZ Z-Wave electrically controlled by remote control or by wall switch but in an emergency, the awning blind can be controlled by service button located on the awning blind.
To use AMZ Z-Wave on a manual (not Z-Wave) window, power supply and control units have to be bought separately.
Characteristic:
the best protection from the heat;
effective shading of the room whilst still allowing some light in;
comfortable use – we can cover the window for a whole summer without the need to roll it up and down every day;
easy installation – we install the blind from the inside (unscrew four screws and then rescrew them again in the same holes);
protection from harmful UV radiation,when used in rainy weather, reduces noise of rain and hailstones.
Size
Warning!
The size of e.g. 78x140 cm applies to roof window's size! The blind itself is smaller. Window's size can be found on the nameplate located at the top of the window. There is no need to measeure the window. Just read the size from the nameplate and order accessories in the corresponding size.
Available fabrics of awning blind for FAKRO roof windows:
relative fabric transparency = 10%

relative fabric transparency = 1%

Control devices for FAKRO Z-Wave / SOLAR products
Kindly note: the product is sold separately!
The products listed below are not delivered with a roof window, shutters or blinds. They are sold separately so that each customer can choose the product that best suits their needs.
Product name:
ZRH1
ZRH12
ZRW7
ZRS24
Device type:
one-channel remote control
multi-channel remote control
wireless, multi-channel wall keyboard
multi-channel remote control
-
Compatibility with FAKRO Z-WAVE products:

✓

✓

✓

✓

Compatibility with FAKRO SOLAR products:

✓

✓

✓

✓

Amount of supported devices:
up to 12 devices in one group
do 12 urządzeń w każdej z 12 grup
up to 12 devices in each of the 7 groups
up to 24 devices in each of the 24 groups
"PLACE" function:

✕

✕

✕

✓


up to 24 devices in each of the 24 places
"SCENE" function:

✕

✕

✕

✓


up to 24 sceens
Appearance information
Available in white:

✓

✓

✓

✓

Available in black:

✕

✓

✕

✓

Dimensions:
48x125x17 mm
48x125x17 mm
80x80x20 mm
52x180x20 mm
Technical data
LCD display:
-
-
-
240x320 px
Radio protocol:
Z-Wave
Z-Wave
Z-Wave
Z-Wave
Power supply:
2x batteries AAA
2x batteries AAA
4x batteries AAA
3x batteries AKU AAA
USB charging possible:

✕

✕

✕

✓

Working temperature:
from +5°C to +40°C
from +5°C to +40°C
from 0°C to +40°C
from +5°C to +40°C
Installation how-to-video
Product
Awning blinds
Roller shutters
AMZ
AMZ
Z-Wave
AMZ
Solar
AME
AMB
ARZ-H
ARZ
Z-Wave
ARZ
Solar
ARK
Z-Wave
FTS, FTP, FTU
✓
✓
✓
-
-
✓
✓
✓
-
FTT U6,
FTT U8 Thermo
✓
✓
✓
-
-
-
✓
✓
-
PTP, PTP-V
✓
✓
✓
-
-
-
✓
✓
-
FPP-V, FPU-V
preSelect
✓
✓
✓
-
-
✓
✓
✓
-
PPP-V preSelect
✓
✓
✓
-
-
-
✓
✓
-
FEP
-
-
-
✓
-
-
-
-
✓
FYP-V
✓
✓
✓
-
-
✓
✓
✓
-
FDY-V,
upper/lower part
✓ / -
✓ / -
✓ / -
-
-
✓ / -
✓ / -
✓ / -
-
FHG-V
-
-
-
-
-
-
-
-
-
BD, BVP, BXP
-
-
-
-
✓
-
-
-
-