Areas of uses:
Hammer insulation fixing with an insulated metal pin designed for embedding of Jointless Facade Thermal Insulation Systems.
Lowest embedment depth with maximum high performance parameters;
Shortest drilling depth – saves installation time;
Highest technical parameters for detachment to ensure the safety of the product;
Optimal reduction of thermal bridge through the use of stroke-resistant screw overmoulding
The possibility of using a fixing with an extra KWL insulation holding flange (recommended in the use of mineral-lamella wool);
Economical consumption through optimal product parameters.
Material:
Plug Sleeve: impact resistant copolymer of polypropylene PP
Nail Pin: electro zinc plated pin
Head Coating: polyamide PA 6.0 ( Nylon) reinforced with fiber glass.
Features
Simple installation in all standard substrates (A,B,C).
Excellent plate stiffness (value 1.0 kN/mm) ensures smooth elevation surface and stable insulation system.
The long plastic overmoulding on the TFIX-8M nail minimises thermal bridging (value 0.002W/K), contributing to energy-saving benefits.
Unique nail design allows for high load-bearing capacities. This reduces the quantity of fixings required per square metre of insulation.
The shortest embedment depth at the maximum strength parameters.
Pre-assembled expansion nail saves time and labour.
Can be used with additional KWL insulation holding plate, available in 90, 110 and 140mm flange sizes (recommended for soft insulation materials such as mineral wool).
Installation recommendations:
drill diameter: 8 mm,
minimum embedment depth: ETA 25 mm
Dedicated substrates: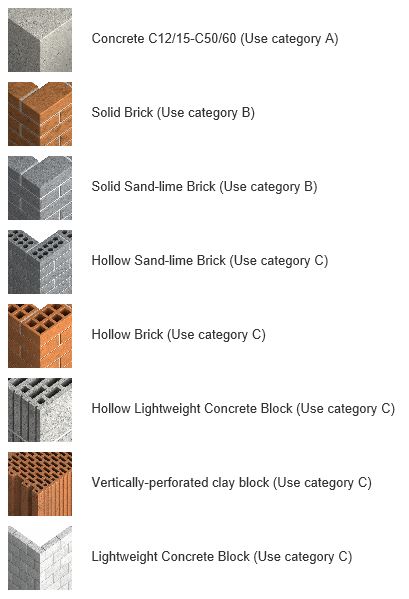 Performance data for single anchor in tension without influence of edge distance and spacing
Substrate
Concrete
Solid brick Mz
Sand-lime solid brick KS
Sand-lime perforated brick KSL
Perforated clay brick HLz
Lightweight concrete solid V
Lightweight concrete solid block VBI
Lightweight concrete hollow block HBI
Embedment depth hef
[mm]
25
25
25
25
25
25
25
25
MEAN ULTIMATE LOAD NRu,m
TFIX-8M
[kN]
1.54
1.72
1.47
1.00
0.68
0.54
0.51
0.53
CHARACTERISTIC LOAD NRk
TFIX-8M
[kN]
1.20
1.20
1.20
0.90
0.60
0.50
0.30
0.50
DESIGN LOAD NRd
TFIX-8M
[kN]
0.60
0.60
0.60
0.45
0.30
0.25
0.15
0.25
RECOMMENDED LOAD Nrec
TFIX-8M
[kN]
0.43
0.43
0.43
0.32
0.21
0.18
0.11
0.18
Fixing type
TFIX-8M
Plate resistance
[kN]
1.75
Plate stiffness
[kN/mm]
1.00
Point thermal transmittance χ
[W/K]
0.00