Original VELUX GPL is a manual, top-hung and pivot wooden roof window with tripple super energy efficient glazing.
Top-Hung GPL roof window comes with a natural pine finish. Opening to any position up to 45o, they are ideal at creating extra headroom, a feeling of increased space, and panoramic views.
GPL window is equipped with integrated ventilation flap. The unique, integrated VELUX ventilation flap lets in fresh air through a dust and insect filter even when the window is closed. Good for rainy days, and ensure a healthy indoor environment.
The New Generation GPL roof window incorporates new, innovative insulation system ThermoTechnology™ and additional seal to offer superior energy efficiency through improved insulating values.
Features
Natural pine with long lasting water-based clear lacquer that protects the wood against dirt and moisture. Matches perfectly with traditional interiors;
Double chamber glazing with a toughened outer pane for strength and laminated interior pane for safety;
Comfortable top control bar for easy operation + elegant bottom handle;
Opening to any position up to 45o;
The window rotates 180° in its frame for easy and safe cleaning;
The unique, integrated ventilation | air flow even when window is closed;
Dust and insect filter;
Thermo Technology | transfers less energy and keeps your home warm;
Additional seal;
High quality pivot hinges for smooth operation
Suitable for roofs with pitches between 15 and 90 degrees (when fitted with correct flashing);
Straightforward blind installation with patented mounting brackets
10 years warranty period.
Glazing unit --68
Triple glazed, laminated inner pane, toughened outer pane with Anti-dew coating. The glazing cavity is filled with inert gas argon. The laminated unit is positioned from the room side of the glazing and is coated with low emision layer. In case of laminated glass damage or shattering, pieces of glass will stick to the membrane. Laminated glass reduces penetration of UV rays by up to 95%.
Flashings
VELUX flashing: do I really need it?
Flashings are essential for the correct installation of roof windows. Precisely designed flashing details ensure a durable and neat fit with the roofing material used. The purpose of flashing is to ensure good drainage away from the window and to provide protection from the elements.
VELUX offers a range of flashings designed for different roofing materials and provide two options for installation height (standard and recessed).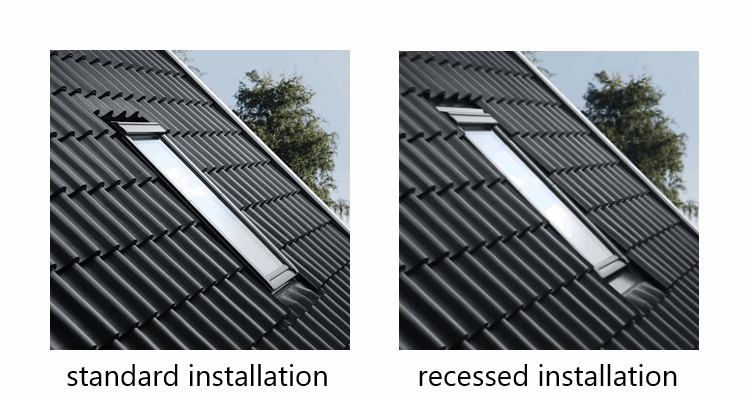 VELUX flashing: standard or recessed installation?
Recessed installations offer a more sleek, streamlined appearance, sitting 40mm deeper in the roof structure. Recessed installations also offer greater energy efficiency, and when installed with the appropriate VELUX insulation collar actually offer a lower certified u-value, saving energy and providing architects with greater design flexibility.
Types of VELUX flashings
Product symbol
EDZ 0000
EDW 0000
EDT 0000
EDJ 0000
EDN 0000
EDL 0000
EDS 0000
EDB 0000
Purpose (type of roofing material):
profiled up to 45mm in profile
profiled up to 120mm in profile
flat & thick from 20mm up to 45mm thick
profiled up to 90mm in profile
slate up to 8mm thicke
slate up to 8mm thick
bituminous felts
slate up to 19mm thick
Installation type and installation range:
Standard,
suitable for 15°-90° roof pitches
Standard,
suitable for 15°-90° roof pitches
Standard,
suitable for 20°-90° roof pitches
Recessed,
suitable for 20°-90° roof pitches
Recessed,
suitable for 20°-90° roof pitches
Standard,
suitable for 15°-90° roof pitches
Standard,
suitable for 15°-90° roof pitches
Standard,
suitable for 25°-90° roof pitches
Additional insulation products (sold separately):
Insulation frame VELUX BDX 2000 for standard flashings,
and vapour barrier collar VELUX BBX
Insulation frame VELUX BDX 2000F for recessed flashings,
and vapour barrier collar VELUX BBX
Insulation frame VELUX BDX 2000 for standard flashings,
and vapour barrier collar VELUX BBX
Technical specification
Technical specification:
GPL 3068
Window U-value:
1,1 W/m²K
Glazing U-value:
0,7 W/m²K
Rw coefficient:
35 dB
Air permeability:
Class 4
Glazing:
3-panes
Inert gas filled with panes:
Argon
Total solar energy transmittance, g
0,52
Light transmittance, τv
72%

UV

transmittance

,

τuv
-
External glass toughened:
+
Interior color:
Pine
Exterior color:
Grey, RAL 7043
Warranty:
10 years
Roof windows
Opening:
centre-pivot (top control bar)

top-hung
VELUX glazing technical data
Glazing
(--50)
(--51)
(--61)
(--70)
(--70Q)
(--73)
(--60)
(--34)
(--66)
(--62)
(--8230)
Thermal transmittance
W/m2K
1.0
1.0
0.6
1.1
1.1
1.0
1.0
1.0
0.7
0.5
0.3
Amount of
chambers
1
1
2
1
1
1
1
1
2
2
2+1
Warm TGI spacer
+
+
+
+
+
+
+
+
+
+
+
Inert gas
filled panes
Argon
Argon
Argon
Argon
Argon
Argon
Argon
Argon
Argon
Krypton
Krypton
Toughened
outer pane
+
+
+
+
+
+
+
+
+
+
+
Laminated opaque
inner pane
-
-
-
+
+
+
+
+
+
+
+
Safety class
-
-
-
P2A
P4A
P2A
P2A
P2A
P2A
P2A
P4A
Ornamental
-
-
-
-
-
-
-
Milk glass
-
-
-
Enhanced noise
reductiont
-
-
-
-
-
-
+
-
-
+
-
Easy-to-clean
coating
-
-
-
-
-
-
+
-
+
-
+
Anti-dew effect
-
-
-
-
-
-
-
-
+
+
+