VELUX GZL-B is a manual-bottom-operated centre-pivot wooden roof window with double glazing.
The improved design allows to open and close the window with one hand. The bottom handle makes it very easy to open and close the window - perfect for windows, that are installed high.
GZL-B window is equipped with integrated ventilation flap. The unique, integrated VELUX ventilation flap lets in fresh air through a dust and insect filter even when the window is closed. Good for rainy days, and ensure a healthy indoor environment.
Features
Natural pine with long lasting coat clear lacquer finish
U value of the window = 1,3(W/m2K), U value of the glass = 1,0 (W/m2K);
Double glazing with warm interframe; hardened external pane;
Comfortable bottom handle for easy operation;
Sash rotation by 180° | easy to rotate and clean the outer glass;
The unique, integrated ventilation | air flow even when window is closed;
Dust and insect filter;
Thermo Technology | transfers less energy and keeps your home warm;
Additional seal;
High quality pivot hinges for smooth operation;
Suitable for roofs with pitches between 15 and 90 degrees (when fitted with correct flashing);
Straightforward blind installation with patented mounting brackets
10 years warranty period.
Standard energy glazing (--51)
This standard 2-panes glazing comes with a toughened outer pane for strength. Inner glass with low emission coating. Space between panes filled with inert gas - argon.
Flashings
VELUX flashing: do I really need it?
Flashings are essential for the correct installation of roof windows. Precisely designed flashing details ensure a durable and neat fit with the roofing material used. The purpose of flashing is to ensure good drainage away from the window and to provide protection from the elements.
VELUX offers a range of flashings designed for different roofing materials and provide two options for installation height (standard and recessed).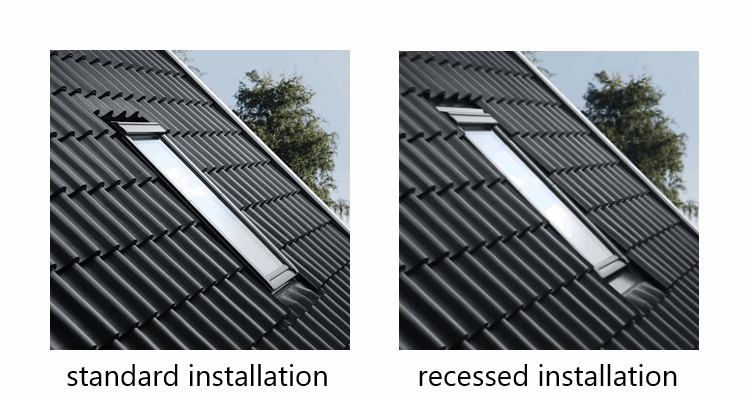 VELUX flashing: standard or recessed installation?
Recessed installations offer a more sleek, streamlined appearance, sitting 40mm deeper in the roof structure. Recessed installations also offer greater energy efficiency, and when installed with the appropriate VELUX insulation collar actually offer a lower certified u-value, saving energy and providing architects with greater design flexibility.
EDZ 1000
EDW 1000
EDT 1000
EDJ 1000
EDN 1000
EDL 1000
EDS 1000
EDB 1000
Underfelt collar BBX
Included
Included
Included
Included
Included
Included
Included
Included
Installation
Standard
Standard
Standard
Deeper
Deeper
Standard
Standard
Standard
Purpose (type of roofing material):
profiled from 1.5 to 4.5 cm height
profiled from 1.5 to 12 cm height
flat & thick tiles from 1.5 to 4 cm height
profiled from 1.5 to 9 cm height
slate, flat roofing materials up to 1.6 cm high (2 x 0.8 cm)
slate, flat roofing materials up to 1.6 cm high (2 x 0.8 cm) side parts as layered pieces without standing seams
bituminous shingles, flat roofing materials up to 1.6 cm high (2 x 0.8 cm) side parts continuous with standing seams
slate, flat roofing materials up to 3.8 cm high (2 x 1.9 cm)
Fitting for roofing material:
Interlocking panel, flat roof tile, flat cremone, reform panel, Frankfurt panel, Taunus panel, flat tile, Heidelberg panel, plain tile in crown covering
Monastery tile, monastery tile, monk and nun, Florento tile, Mistral tile, Toledo tile as well as thatch, straw, corrugated sheets 5-, 6-, 8-flute, Berlin wave
Koramic Wienerberger Orea 9, Monier Braas Turmalin, Braas Teviva, Braas Reviva, Creaton Domino, Nelskamp Nibra, Wienerberger Koramic Acuta, Erlus Linea and many others.
Interlocking tiles, flat roofing tiles, flat clay tiles, reform panels, Frankfurt panels, flat tiles, Heidelberg panels, corrugated sheets 5-, 6-, 8-wave, Berlin wave, plain tiles in crown and double roofing
Slate (e.g., rectangular double roofing template), wood shingles, roofing felt, roofing sheets, bituminous shingles, bituminous sheets
Slate (e.g. German and old German roofing), wooden shingles, roof panels
Double roofing plain tile
Installation type and installation range:
Standard,
suitable for 20°-90° roof pitches
Standard,
suitable for 15°-90° roof pitches
Standard,
suitable for 20°-90° roof pitches
Recessed,
suitable for 20°-90° roof pitches
Recessed,
suitable for 20°-90° roof pitches
Standard,
suitable for 15°-90° roof pitches
Standard,
suitable for 15°-90° roof pitches
Standard,
suitable for 25°-90° roof pitches
Additional insulation products (sold separately):
Insulation frame VELUX BDX 2000 for standard flashings,
and vapour barrier collar VELUX BBX
Insulation frame VELUX BDX 2000F for recessed flashings,
and vapour barrier collar VELUX BBX
Insulation frame VELUX BDX 2000 for standard flashings,
and vapour barrier collar VELUX BBX
Technical specification:
Technical specification:
GZL 1051 B
Window U-value:
1,3 W/m²K
Glazing U-value:
1,0 W/m²K
Rw coefficient:
29 dB
Air permeability:
Class 3
Glazing:
2-panes
Inert gas filled with panes:
Argon
Total solar energy transmittance, g
0,66
Light transmittance, τv
0,80

UV

transmittance

,

τuv
0,32
External glass toughened:
+
Interior color:
Pine
Exterior color:
Gray, RAL 7043
Warranty:
10 years
Roof windows
Opening:
centre-pivot (bottom handle)
VELUX glazing technical data